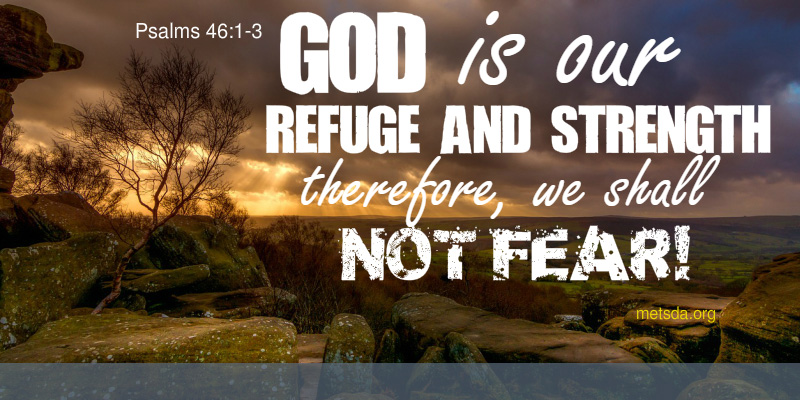 Greetings in the Name of our Lord and Savior, Jesus Christ!
First of all, I want to thank you for encouraging one another with the Word of God and through prayer sessions during this very challenging time!
Please be encouraged by the Word of God! I am reminded of a wonderful Scripture in Psalms 46:1-3 (KJV) which says, "God is our refuge and strength, a very present help in trouble. Therefore will not we fear, though the earth be removed, and though the mountains be carried into the midst of the sea; Though the waters thereof roar and be troubled, though the mountains shake with the swelling thereof." We continue to serve a good God who is in control!
While we had a different response during the previous weeks, following the safety guidelines of the CDC and the guidance of our own organization, some may be wondering what we plan to do now at Metropolitan in response to "The President's Coronavirus Guidelines for America: 15 Days to Slow the Spread," which was announced yesterday March 16, in conjunction with the CDC, the coronavirus task force, and related health authorities.
In this new guideline, the recommendation was made to avoid any gatherings (whether at home or elsewhere) in groups of more than 10 people for the next 15 days, in addition to other safety precautions.
While we continue to have great faith in our awesome God, let us also do our part to slow the spread of coronavirus and to prevent the buckling of the healthcare system under the strain — while praying for not only each other in church, but also for those in the community that are at risk or vulnerable, as well as the healthcare and public/civil workers who continue to leave their families every day to serve the community.
We would like to outline the following plan at this time, realizing of course that the situation continues to be fluid and things could change. This will be in effect starting today and until further notice.
WORSHIP SERVICES:
We will continue to livestream our Sabbath services through the web at:
https://www.facebook.com/metsda.org
Except for the participants, of which there will be no more than 10 in the church at any given time, we encourage all to join us in UNITED worship by watching at home. Please comment, check-in, and let us know you are there with us online, though not bodily present.
If there are any changes to the times as we coordinate with other ministries, we will let you know via social media outlets and through text or email messaging.
GIVING OF TITHES AND OFFERINGS:
We understand how important is the work of continued giving for yourself and your families even under the current circumstances. With AdventistGiving, you can continue to be faithful to God online.
The link that is unique to our church is:
https://adventistgiving.org/?OrgID=ANWBME
It should say Metropolitan Seventh-Day Adventist Church, along with our address information. This will ensure your funds will be sent to the appropriate local church.
CONTACTS:
Rolando Baysa (Church Pastor): 832-755-two-six-six-five or via email at PastorBaysa@metsda.org
Hansel Rivera (Head Elder): 832-890-five-eight-eight-nine
You can also contact us through the web at:
https://www.metsda.org/contact-us/
If you need any assistance, have special requests or needs, or have any questions or concerns, please don't hesitate to let us know. We are here for each other!
Yours in Ministry,
Rolando A. Baysa
QUICK LINKS
Video on 3/13/20 from our Conference President:
click here
Video on 3/14/20 from our Youth & Adult Ministries Department
click here
RESOURCES:
AdventHealth
Adventist Risk Management
CDC FAQs Page